Angela Johnson Fall '05 Runway Show
5/21/05
Angela Johnson Designs
Loft 19
Phoenix, AZ
All,
Angela Johnson is having her Fall '05 runway show at Loft 19 on Saturday 5/21/05. Don't miss this show. It will be one of the best fashion events in Phoenix this year. Phosphor will be there to cover the fashion, frivolity and weirdness.

If any questions, feel free to contact me.
Hope to see you there.
Scott Morrow
Phosphor
- Below is a copy of the release from Angela Johnson Designs -
---
FOR IMMEDIATE RELEASE:
ANGELA JOHNSON FALL '05 RUNWAY SHOW
Contact: Angela Johnson at angela@angelajohnsondesigns
LabelHorde Fashion / Arizona Fashion Foundation, Arizona's fashion industry directory and resource guide announces the debut of clothing designer, Angela Johnson's, Fall/Winter '05/'06 clothing line with an elaborate runway show entitled "Sideshow Freak in the Padded Room". The event will take place on Saturday, May 21st, 2005, at 8:00 pm at Arizona's newest professional photography studio, Loft 19 Studios, located at 21618 N. 9th Avenue #A, in Phoenix.
Angela Johnson is best known for her T-Shirt Ballgown, a strapless, evening gown made entirely from thrifted T-shirts. She is also credited with uniting the Arizona Fashion Industry through the creation of the industry directory and resource, LabelHorde Fashion/Arizona Fashion Foundation. A recent recipient of the Scottsdale Cultural Council's Artist of the Year award and Fashion Group International's Rising Star award, Johnson made it a personal duty to unite and solidify Arizona's Fashion Industry. Her Fall '05/'06 line explores her appreciation for the unusual, with gowns and unique street wear inspired by the "Sideshow Freak in the Padded Room" theme of her runway show. Each piece is a one-of-a-kind creation enabling the wearer to own a piece of wearable art at affordable prices. Johnson's current line can be found on www.angelajohnsondesigns.com.
The runway show will include samples from Johnson's "Wearable Art" and "Ready-to-Wear" lines for Fall/Winter '05/'06, available to order by wholesale retail buyers. In addition, samples straight from the runway will be available for sale to the public for retail prices after the show. General public can enjoy 10% off retail price by wearing an "Angela Johnson Cuff" to the show. Cuffs can be obtained at the LabelHorde/AFF Directory Release Party on April 27th (see calendar for details) One-of-a-kind pieces from her "Custom Couture" line will be exhibited to showcase her made-to-order custom design capabilities. Johnson's designs will be presented on the runway by models from Ford Robert Black Agency, S.I.M and The Agency Arizona in addition to independent models listed on www.labelhorde.com. Unique hair creations will be provided by Allure Magazine's "Best Salon of Phoenix" winner, Ethan Murray of Urban Hair. Innovative makeup artistry will be provided by Robert Saenz and Isaac Beal.
The event will take place in Phoenix's newest and most prominent Photography Studio, Loft 19 Studios www.loft19.com. Loft 19 Studios is a brand new, full-service studio complex & rental house in Phoenix, Arizona. Fusing modern design, high-end facilities, and exceptional service, Loft 19 was built to meet the demanding needs of professional photographers, designers, ad agencies, and production companies worldwide. Loft 19 Studios also offers complete production support for still location shoots in Arizona and boasts clients such as CBS Television, ESPN the Magazine, Walmart, Janet Napolitano and numerous Major League Baseball players and other athletes.

All are welcome.
Time:
8:00 PM
Date:
Saturday May 21, 2005
Address:
Loft 19 Studios
21618 N. 9th Avenue #A
Phoenix, AZ, 85027
Phone:
602-430-4357
Located just south of:
Deer Valley Airport

This event is produced by Angela Johnson Designs, Swell Pro Audio, Ford Robert Black Agency, S.I.M, The Agency Arizona, Independent models listed on www.labelhorde.com, Ethan Murray of Urban Hair, Robert Saenz, Isaac Beal and Loft 19.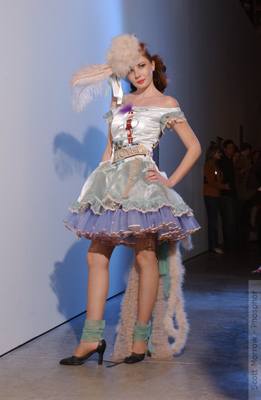 Preview of what you may see at Angela Johnson's Fall '05 Runway Show
Preview of what you may see at Angela Johnson's Fall '05 Runway Show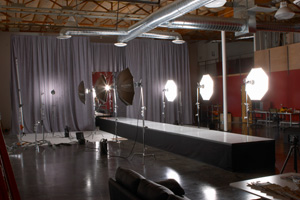 Loft 19 - Main Studio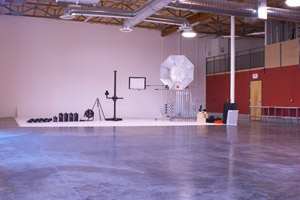 Loft 19 - Main Studio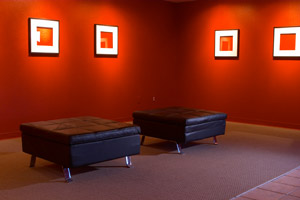 Loft 19 - Gallery